Gift Shop!
Come by the museum to explore this region's local history.
While you are here check out items
you can purchase
at the Cultural Center's Gift Shop.
Gift Shop Items
*Books – Genealogy resources for Barren and Metcalfe counties, and a few books by local authors, Arrowheads,
Harvest of History DVD's from 2010 to the present and Cassette Tapes,
Kiwanis Christmas ornaments only $4.00. Many other gift Items have been marked down by 50%!
Books for sale:
Mice at the Museum by local author Peggy Goodman
Barren County Genealogical and Historical Society publications
Barren County Cemeteries. Beard & Leech, Editors. Hardbound
Barren County Heritage. Good & Gardner Editors. Hardbound
Barrens: The Family Genealogy of the White, Jones, Maxey, Rennick, Pope and Kirkpatrick Families, Related Lines. Emery White
Biography of Elder Jacob Locke James P. Brooks
Goodhope Baptist Church (now Metcalfe county), Peden. 1838-1872
Historic Trip Through Barren County. C. Clayton Simmons
Little Barren (Trammel's Creek) Baptist Church. (now Metcalfe County), Peden
Mt. Tabor Baptist Church. By Church committee.
Pleasant Run Church, McFarland's Creek 1827-1844. Peden
Stories of the Early Days. Cyrus Edwards by his daughter. Hardbound
Then and Now. Dr. R.H. Grinstead
Times of Long Ago. Franklin Gorin. Hardbound
1879 Beers & Lanagan Map of Barren County. 24X30 laminated cardstock, black & white. Landowners shown, community inserts
Metcalfe County Historical Society Publications
In the Pennyrile of Old Kentucky
Metcalfe County Kentucky Cemetery Records Vol. I
1860 Metcalfe County Census
Metcalfe County Church Histories
Metcalfe County: Our History in Pictures
Trails of Metcalfe County's Past Vol. I & II
Metcalfe County Marriage Records Vol. I & II
History Speaks Vol. I & III
James Read's 1865 Tax Records
Other Books available:
Broomsedge Chronicles Food Stories from South Central Kentucky 2009-2013
Runaway Truck by Jimmy Lowe and Terry Lawrence
That Spring At Harley's Place and Other Stories by Jimmy Lowe
On Blooming Where You Are Planted Dr. Joe W. Aspley, Jr.
Open Door To The Past: Stories Told By Descendant's of South-Central Kentucky Pioneers – Ruth Rogers
They Called Me "TUT" by Ervin G. Houchens
United States Census Barren County Kentucky 1850 Compiled by Judy Froggett
A JackMAN of All Trades Eugene Martin Reflects on a Century of Kentucky Life -- Loretta Martin Murrey
Frontiersman in the War of 1812 - Glen Conner
DVDs, CD's & Cassette Tapes:
Harvest of History DVD's
Harvest of History DVD's are a keepsake of this annual event as well as a classroom resource to illustrate various topics of history, such as prohibition, early settlement, community leadership, the Civil War, WWI, WWII, medical advances of history, community development, Black history, etc. Call, email or come by for a list of historic characters and their reenactors included in each year of the Harvest of History from 2010 to the present.
Martha Harrison compiled a CD of Glasgow Newspapers from 1849 - 1911 that includes information from Allen, Warren, Metcalfe, Monroe, Hart, and Green counties. Births, Deaths, Marriages and people that moved away.
CDs and Cassette tapes of Miss Mary Davis, sharing her memories of school days from 1928 - 1972 "Recollections of Glasgow High School" are available.
And Kiwanis Christmas Ornaments:
Kiwanis Christmas Ornaments
Wall of Honor 2017 Ornament $10.00
Procedes support children's projects in the community.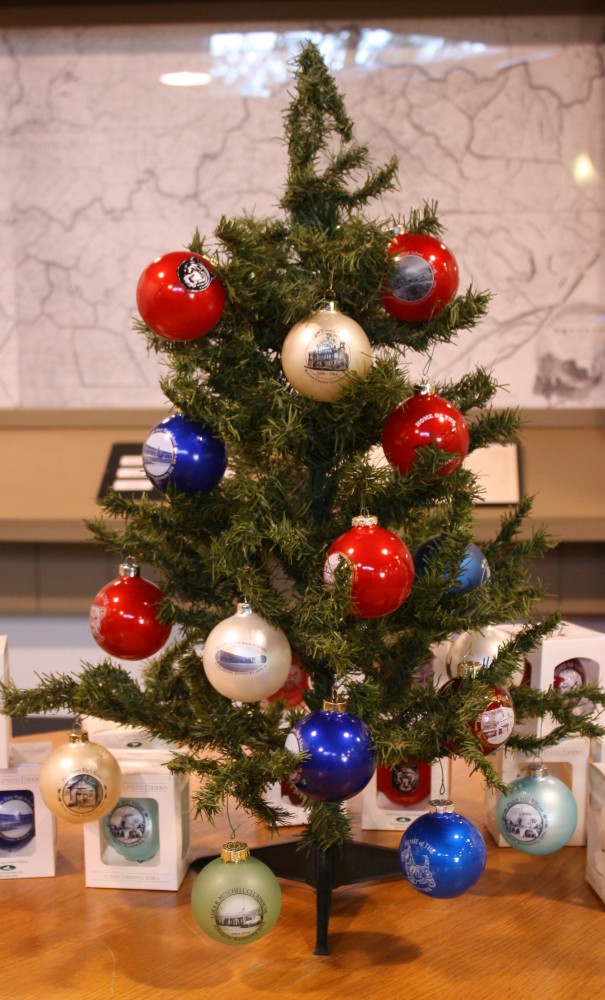 Address and Contact Info
Address:
200 West Water Street
Glasgow, KY
42141

Phone:
(270) 651-9792
Email:
sckculturalcenter@glasgow-ky.com
Come Visit, Explore & Discover South Central Kentucky History!
South Central Kentucky Cultural Center
Monday - Friday 9:00 AM to 4:00 PM
Saturday 9:00 AM to 2:00 PM